What you can expect: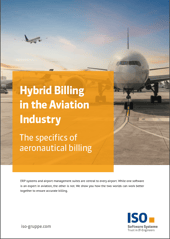 Nowadays, many companies use an enterprise resource planning (ERP) system. Certainly, this brings
many advantages as it helps to facilitate or even automate tasks, which in turn leads to savings of time
and effort , and therefore of costs. And, as many of you may have guessed, airports use ERP systems to
manage their areas such as Sales or Human Resources, etc. However, when it comes to finance in terms
of aeronautical billing, these finance systems face a significant problem as they have no knowledge of
the aviation business. They don't know what MTOM means or what it stands for.
Nevertheless, MTOM is a significant factor in determining the amount of fees an airport charges its
customers.
This white paper outlines how airports can address this issue to ensure accurate billing of aeronautical
charges and better collaboration between their ERP system and airport management software.